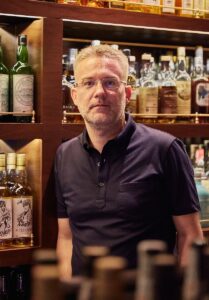 Answering our 10 questions is Emmanuel Dron, co-owner of The Auld Alliance, a bar and company specialised in whiskies, rums and other rare spirits in Singapore and writer of the book "Collecting Scotch Whisky, an illustrated encyclopedia".
> What's your favourite spirit and why?
This is a very tough question for me because I love Rum, Cognac, Calvados, Fine de Bourgogne etc. But if I really had to pick one it would be Whisky because it has been a passion of mine for the last 25 years and still is to this day.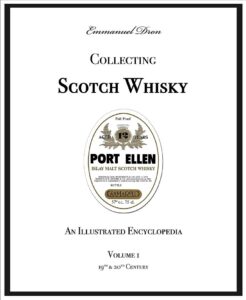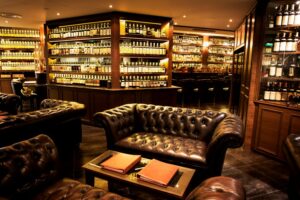 > What's your favourite cocktail and why?
The Mojito! A cocktail seemingly easy to make but often badly prepared. I enjoy smoking cigars on a regular basis and Mojito is still my favourite pairing.
> What's the top 5 of your favourite bars in the world, in France?
Calvador Kyoto / Japan
Cask Strength Tokyo / Japan
La Casa Cubana / Singapore
Brandy Library / New York
Club Qing / Hong-Kong
As for France (I'm ashamed to admit it) but unfortunately, I hardly ever visit and when I do visit, I tend to go restaurants rather than bars so there aren't that many places I could recommend. On my last visit, I had a really great time the bar "Le bout du monde" in Beaune. They have an incredible wine list and a fine whisky list too.
> What inspired you to choose your line of work?
Whisky! Back in 1994-1995 I realised the diversity of this spirits and decided to make a career out of it by creating a newsletter first (La Part des Anges in 1996) then by joining La Maison du Whisky from 1997 to 2010. Then I moved on to creating my own company The Auld Alliance in Singapour in 2010 and opened the bar in January 2011.
> What do you think of the low ABV and alcohol-free cocktails trends?
I am ok with low ABV, as long as it is at least 40%!! On a more serious note, I drink less Cask Strengths than I used to. I find as I get older, I enjoy reduced spirits when well produced, 45-50%.
> What do you think of old school liqueurs and spirits' comeback observed these past few years?
When I come across projects such as Karim Karroum's Grandmont distillery, producing the most beautiful Gentiane, I am simply amazed. In France, we have a long history of liqueurs and spirits, a history that our generation forgot about, this revival is good news.
> Do you prefer cane juice or molasses rums?
Both oh captain, my captain! I lived at la Réunion for 8 years. I remember having strong views on arrival, preferring cane juice rhums.  When I met Laurent Broc back in 2002, then the director of Savanna (a distillery producing various types of rum using juice as well as molasses) I spent a lot of time in the chais and abroad. He taught me out of my convictions! So both!
> What do you think the rum world will be like 5 years?  
I sincerely hope the rum world will not take the same path as the whisky world: a drastic drop in the availability of quality casks, control of « great houses », the use of the distillery names on the labels of independent bottlers, and the prices taking off. Unfortunately, regarding this last point, it is clearly already heading down that road…
> What's your point of view on independent bottlers ?
I think the world of spirits needs independent bottlers. They are usually the ones bringing about changes in a sometimes "frozen" "industrial" context.
It is true for the whisky world. Without independent bottlers, the whisky world would not be what it is today. The same can be said for Cognac. Take the Cognac brand Grosperrin for instance, independent bottlers really shook things up in a somewhat old-fashioned world in dire need of a brand-new approach by focusing on quality and traceability for consumers. In the end it was truly beneficial for the whole Cognac world, it rejuvenated the image of this amazing spirit which had lost a little of its superb.
The same goes for rum. I first tasted quality rums at the Bristol company. Luca Gargano with Veliers has been doing an incredible job bottling but also promoting rum. The whole world of rum has him to thank for that.
Moreover, brands have everything to gain by working with independent bottlers. Marc Sassier enabled Corman-Collins, a rum specialised shop in Belgium but also an independent bottler with its own rum bottlings, to select an incredible J.Bally 18 YO. This goes to show how these two worlds, the one of independent bottlers and the one of distilleries are not incompatible.