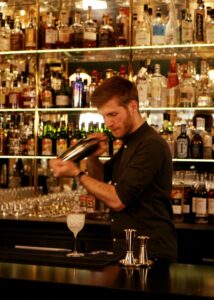 By Colin Lach
Rum and cocktail aficionado both personally and professionally- He has been part of the bar world since 2016 – Head Bartender at Monsieur Moutarde – Previously at La Plantation, where rum is not something to be trifled with!
Right now, bars are closed and unfortunately you can no longer rely on the talents of your bartender to make you a good cocktail. The solution is really quite simple: do it yourself! If you think it's too complicated think again and check out these 5 rum cocktails recipes (what else!). These 5 slightly tweaked classic cocktails are sure to satisfy your cravings of liquid sunshine!
Jungle Bird: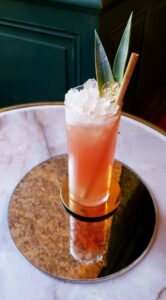 The Jungle Bird is a Tiki cocktail that somehow manages to steer clear of Tiki's typical exuberance. This cocktail was created at Kuala Lumpur Hilton hotel bar in the 70's but was little-known until Jeff "Beachbum" Berry published the recipe in his book "Intoxica!" in 2002.
          Exotic, aromatic and subtly bitter, a sip soon calls for another. This hint of bitterness makes it incredibly refreshing despite its aromatic richness. This is a cocktail to enjoy outside a bar in the summer as well as during cosy autumn evenings when you start craving for sunshine and exotism.
          The recipe:
4,5cl   Compagnie des Indes Rum Jamaica 5 YO
2,5cl   Campari
4,5cl   Fresh pineapple juice
2cl     Fresh lime juice
1,5cl   Simple syrup
          Add all ingredients to a shaker ¾ full of ice. Shake and strain into a chilled tall glass ¾ full of ice, add some crushed ice, garnish and serve.
          Game changer: You don't have to use fresh pineapple juice but it really does make a difference, using a 100% pure juice pineapple juice will do the trick but trust me, if you can it really is worth the trouble (and it means you'll have pretty leaves to garnish your drink) so if you have a juice extractor or a juicer just go for it !
El Presidente: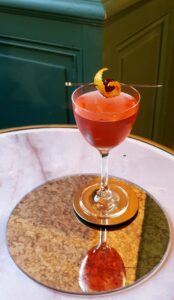 El Presidente is different from your usual rum cocktail, it is both quite dry, playing on the complexity of its ingredients, but also easy taste-wise. It is a great starting point to try "spirit-forward" cocktails.
          This cocktail dates back from the 1910's and was created in the Havana by an American bartender, the original recipe evolved over the decades but like most classic cocktails the beauty of its simplicity remains unchanged. Originally, the cocktail was made with a dry vermouth, the recipe here below (a variation of Miami Café la Trova's bartender Julio Cabrera's take on the El Presidente) invites you to try it using white vermouth. The resulting cocktail is well balanced and better suited to our modern palate.
          The recipe:
5cl     Compagnie des Indes Rum Latino 5YO
2,5cl   White Vermouth (preferably Dolin)
1,5cl   Triple sec (preferably Pierre Ferrand)
0,5cl   Pomegranate syrup
          Add all ingredients into a chilled mixing glass. Fill it up to 2/3 full of ice and mix. Strain into a chilled stemmed glass, twist an orange zest over the cocktail, and garnish with an orange rind, a brandied cherry and serve.
          Game changer: The original recipe uses grenadine syrup, here I encourage you to use pomegranate syrup instead because modern industrial grenadine syrup could spoil your El Presidente. This cocktail plays with the complexity and subtlety of its ingredients, thus the quality of these ingredients is essential.
          It is very easy to make your own, it's inexpensive and quick to make. You can buy a 100% pure juice pomegranate juice in supermakets, usually in the organic aisle and it will be a great base to make your own pomegranate syrup. In a pan add 500g of pomegranate juice, 500g of caster sugar, a good pinch of salt and a few drops of vanilla extract. Bring to a boil while mixing regularly, once the sugar is completely dissolved, bottle, close, and leave it to cool down. It keeps up to a few weeks in the fridge and you can make a great many cocktails with it, simply swap any grenadine syrup for this pomegranate syrup.
Mai Tai: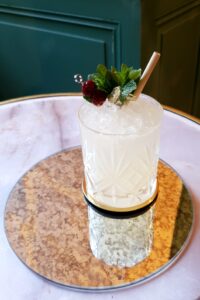 The Mai Tai, just like the Jungle Bird, is a Tiki cocktail but unlike the Jungle Bird it met with immediate success, the Mai Tai is a very popular cocktail, although not so much in France. It owes its popularity to its famous creator, Trader Vic who is said to have first made it in 1944 in his tiki bar in Los Angeles.
          The recipe here below is a riff on the original recipe. I swapped triple sec for a Creole Shrubb, which is an orange liqueur with French Caribbean traditional spices, made from rum. Also, I recommend using falernum syrup instead of the usual orgeat syrup, both are almond based syrups but falernum also has many sweet spices which brings warmth to the whole. If you don't have these alternative ingredients, the classic version made with triple sec and orgeat syrup works very well.
          The recipe:
3cl     Compagnie des Indes Rum Caraïbes
3cl     J.M. Agricole Rum Jungle Macouba
1,5cl   J.M. Creole Shrubb
3cl     Fresh lime juice
1cl     Falernum syrup
          Add all ingredients in a shaker ¾ full of ice. Shake and strain in a chilled Old-Fashioned glass ¾ full of ice, add crushed ice, garnish and serve.
          Game changer: It is worth mentioning that there is a common mistake made with this cocktail, except for the fresh lime juice, a true Mai Tai doesn't have any other fruit juice, forget the orange juice or pineapple juice, they have no business here !
Rum Old-Fashioned: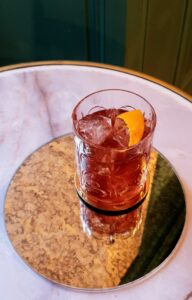 The Old-Fashioned is a very old classic cocktail, first known as the "Whisky Cocktail", it is listed in the first cocktail recipe book "The Bar-Tender's Guide" by Jerry Thomas in 1862. This cocktail changed overtime but nowadays an Old-Fashioned means a blend of American Whiskey (Rye or Bourbon), sugar and bitters, served over ice in an "Old-Fashioned" glass which is where it gets its name from.
The Old-Fashioned magic lies with its versatility and simplicity, if you bring it down to the simplicity of its structure, it becomes an amazing invitation for creativity. The Rum Old-Fashioned recipe here below is a good example. It swaps whiskey for rum; it uses a stronger sugar and the bitters used are infused with vanilla making it smoother and richer. Its structure remains unchanged (spirits + sugar + bitters) but the aromatic profile is completely different though keeping a similar typicity.
You can try this with any spirit. Why not try an Old-Fashioned made from Cognac with honey syrup and fruitier bitters for instance or an Oaxaca Old-Fashioned made from tequila and mezcal, agave syrup and chocolate bitters. The possibilities are endless.
The recipe:
4,5cl   Compagnie des Indes Rum Latino 5 YO
1,5cl   Compagnie des Indes Rum Jamaica Navy Strength
0,5cl   Muscovado sugar syrup
2        Dashes of Angostura aromatic bitters infused with bourbon vanilla
In a chilled Old-Fashioned glass, add all ingredients then ice. Mix until it's diluted to your taste, garnish and serve.
Bourbon vanilla infused Angostura aromatic bitters: For a 20cl bottle of Angostura, split and scrape half a pod of Bourbon vanilla, add the seeds and the scraped pod to the bottle. Leave it to infuse 48 hours, filter with a fine strainer and bottle up.
Game changer: In the classic version, sugar cubes are used, one is crushed at the bottom of the glass with some water and bitters, kind of like making an express sugar and bitters syrup. Purists may disapprove the use of a ready-made syrup but in the end, you are only skipping one step. As long as you measure the syrup correctly, it will even offer the advantage of better blending with the cocktail whereas a piece of sugar won't always dissolve completely and will leave residue at the bottom of your glass. It is wise to use a "heavy simple syrup", which is a sugar syrup made from 2 parts sugar for 1part water.
Daiquiri: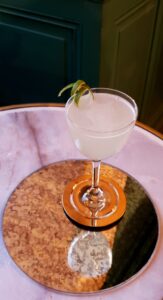 The Daiquiri is a Cuban cocktail, unlike many cocktails it is very easy to precisely trace back its creation. The recipe dates back to 1896, it was created by Jennings Cox, an American engineer who lived and worked in Cuba for an iron mine. This cocktail's popularity grew during the US prohibition when Americans used to travel to Cuba to quench their thirst for alcohol.
At the risk of repeating what I have said before, the Daiquiri probably owes its effectiveness to its simplicity: rum, lime juice and cane juice, that's it! Its simplicity makes it incredibly versatile and just like the Old-Fashioned, keeping its structure but swapping an ingredient for another is a great way to have some fun and experiment with new flavours. Simply change the light white rum in the original recipe for a richer rum such as a Jamaican rum or an Agricole and you will get a cocktail with a very distinctive aromatic profile.
The recipe:
5cl     Compagnie des Indes Rum Tricorne
2,5cl   Fresh lime juice
2cl     Simple syrup
Add all ingredients into a shaker. Shake and double strain into a chilled stemmed glass. Twist a lime zest over the glass, garnish the cocktail and then serve.
Game changer: To make a good Daiquiri, it is essential to use fresh lime juice, don't even think about using store-bought lime juice, the fresh lime juice is truly key so don't skimp on it.
To conclude, you don't need a bartender's fancy equipment to make good cocktails, it helps but it's not necessary. A jar with a lid will make a good shaker substitute, a shot glass can be used as a jigger, a glass measuring cup can be used as a mixing glass and so on, you get the gist, where there is a will there is  a way! That being said, Christmas is around the corner… Maybe this is the perfect time to ask for a cocktail set and make your cocktails like a pro.
The current situation is very hard on everyone including bars so while we wait, cheers to you all!