For this first article of the From riff to modern classic series, discover the story behind two creations we owe to the very talented Sam Ross. These two riffs have become within a few years true modern classic cocktails!
The Paper Plane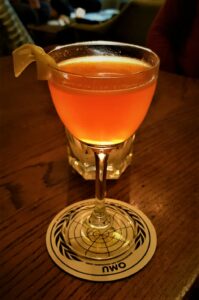 This cocktail started as a riff of the Last Word (1 part of Gin, 1 part of green Chartreuse, 1 part of lime juice and 1 part of Marasquin liqueur). Sam Ross and Toby Maloney worked together at Milk & Honey, a cocktail bar in New York. In 2007, Toby Maloney asked Sam Ross to create a cocktail for The Violet Hour in Chicago. that's just what Sam Ross did and he named his creation after one of his favourite tracks at the time, Paper planes by M.I.A. At first Toby Maloney misunderstands the name of the cocktail and the first printed menus you  would find Paper airplanes instead but not to worry the error is quickly repaired and the Paper Plane is offcicially born! the cocktail is 1 part Bourbon, 1 part Amaro Nonino, 1 part Aperol and 1 part lemon juice.
At first Ross imagined the cocktail with Campari instead of Aperol as it is done today, but not quite satisfied with his creation he quickly swapped the Campari for the Aperol and the magic happened! The Aperol also gives it a very nice characteristic colour. With this cocktail, Ross really did a favour to Amaro Nonino, as it quickly became a backbar essential! Ross and Maloney launched this cocktail in their respective bars and the customers asked for more! It was also a success in Canada, particularly in Toronto.
This rapid success did not surprise its creator, on the contrary! Ross knew that by creating a delicious and easy to make cocktail with readily available ingredients, success was guaranteed!
The Paper Plane, a derivative of the Last Word, in turn inspired new revisits such as Nick Brown's Amen Corner (bourbon, Aperol, Amaro Nonino and mint) and, perhaps most famously, Joaquín Simó's Naked and Famous (mezcal, yellow Chartreuse, Aperol and lime), which quickly became a classic in its own right.
The Paper Plane even gave its name to a bar in San Jose in 2014. The three partners George Lahlouh, Dan Phan and Johnny Wang decided on the name after a benchmark night in New York, one tour of the cocktail later they were convinced they had the perfect name for their cocktail bar.
The Penicillin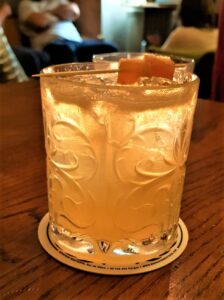 Nothing to do with the antibiotic! This time it's the talented Sam Ross who's responsible for the riff. This time it's the Gold Rush that he revisited, a kind of whisky sour created for the Milk & Honey in New York in 2005. 5cl Scotch whisky, 2cl lemon juice, 1cl honey syrup, 1cl ginger syrup, 0.5cl peated single malt whisky and candied ginger in garnish.
He halves the honey syrup, replacing the remaining amount with freshly squeezed ginger juice. A good start, but he wants to create a less sweet and mellower cocktail. He then replaces the bourbon with scotch, its malty notes matching the ginger perfectly, giving it a very clean edge. The peated scotch adds smoky aromas to this cocktail, which is the first thing you notice. On the palate it is spicy, acidulous, but also sweet. The complexity of this cocktail explains its success at a time when it was truly unique, at a time when Americans were discovering or rediscovering the simple happiness of an Old Fashioned or a Manhattan.
Most famous variations of the Penicillin are Marcos Tello's Medicina Latina, which swaps tequila and mezcal for the blended and peated Scotches, and lime for lemon. There is also the Frozen Penichillin at Brooklyn's Diamond Reef and Devon Espinosa's Braveheart, a non-smoky variation that adds a touch of Angostura. Created during his time at The Tasting Kitchen in Venice Beach, he removed the smokiness to made the drink "a lot more palatable," and added bitters for more depth.