NICOLAS, RUM AFICIONADO FOR OVER TWENTY YEARS, IS CONSTANTLY LOOKING TO BROADEN HIS RUM CULTURE BY TASTING, STUDYING ITS HISTORY, TECHNIQUES AND PRETTY MUCH ANYTHING TO DO WITH HIS FAVOURITE SPIRIT. THIS LED HIM TO WRITE HIS OWN BLOG (CŒUR DE CHAUFFE), BUT ALSO WRITE FOR OTHERS, AND MORE RECENTLY TO IMPORT SOME OF HIS ABSOLUTE FAVOURITES, ALWAYS WITH THIS IDEA OF SHARING HIS PASSION.
Japanese gastronomy is increasingly served at European tables. It is traditionally accompanied by sake, or rather nihonshu ("sake" means alcoholic beverage in the broadest sense of the word in Japanese), but very little is known about shochu, the traditional Japanese spirit.
Its tradition is thought to date back to the end of the 15th century, although the first written records of it date back to the 16th century, both in Europe and in Japan itself. Indeed, at the same time, Portuguese missionaries reported the existence of a brandy called "xochu", while Japanese carpenters put a graffiti on the roof of a temple, complaining about a stingy priest who did not give them even a little shochu at the end of the working day.
The Honkaku Shochu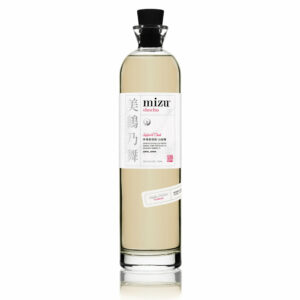 Honkaku shochu is "authentic shochu", distilled in a single pass in a still, as opposed to the lighter korui shochu, distilled continuously in columns. It is mainly produced on the southern island of Kyushu, which has the majority of the country's 600 or so distillers. On the tropical island of Okinawa, we speak of awamori, a spirit produced in almost the same way, which seems to be even older.
More than 50 different raw materials are permitted in the production of shochu, a pleasing variety that is bound to whet the appetite of the curious. The main ones are rice (kome), barley (mugi), sweet potato (imo), cane sugar loaf (kokuto), and buckwheat (soba). Awamori is distilled only from jasmine rice (Thai long rice). Other ingredients include sesame, seaweed, pumpkin, sake lees, radish, chestnuts, and even milk…
The production of shochu
Koji and fermentation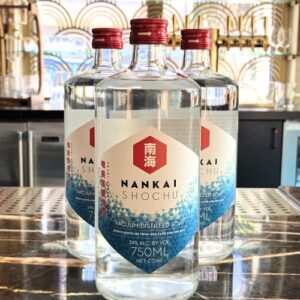 The essential ingredient before anything else is koji. In our article on batavia arrack, we talked about this magic mould that converts the starch of cereals into sugar, so that fermentation can start. This fungus (the yellow koji) is a central element of Japanese gastronomy, as it is also used in the production of soy sauce, miso, sake of course, and mirin.
The disadvantage of yellow koji is that it does not work as well in hot climates like Kyushu. It does not develop sufficient acidity to avoid bacterial contamination of the wort. Distillers have therefore looked to Okinawa and Amawori, where a black koji is used, which is at ease even in tropical climates. More recently, another variety, white koji, has been discovered.
When making shochu, the koji is first developed on steamed rice, or on barley or sweet potato. This provides a good propagation medium for the yeast, which is then added with water to create a vat base, where the sugars obtained from the koji can ferment. At the same time, the main ingredient (sweet potato, cane sugar, etc.) is cooked and then added to the fermentation tank. For awamori, we stick to the first step; only the kojified rice enters the fermentation.
One-pass distillation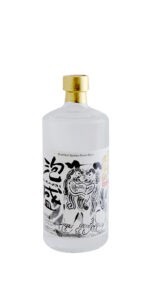 De la fermentation, on tire un moût qui titre 15 % d'alcool environ, un degré suffisamment élevé pour obtenir un distillat à 40 % après une seule passe en alambic. Cette distillation unique permet ainsi de conserver un maximum d'arômes de la matière première. On distingue en outre les alambics à pression atmosphérique (qui font des distillats plus chargés) des alambics à basse pression (dont s'écoulent des shochus plus délicats).
Le shochu mature ensuite dans des pots d'argile, des cuves en inox, ou dans des fûts de bois. L'awamori âgé d'au moins 3 ans (kusu) est issu d'un assemblage dynamique comparable à la solera des bodegas de Jerez. Après assemblage et réduction, la plupart des shochus titrent entre 25 et 30 % d'alcool. Cette puissance est surprenante pour un amateur de spiritueux qui est habitué à des alcools qui dépassent les 40 %, mais il est important de savoir que le shochu est dans la plupart des cas consommé lors du repas.
A variety of services to explore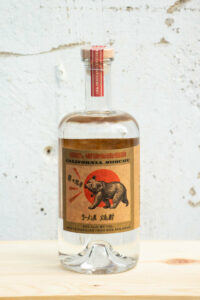 From the fermentation process, a mash is obtained with an about 15% alcohol content, a degree high enough to obtain a 40% distillate after a single pass in the still. This single distillation allows the maximum amount of aroma to be retained from the raw material. A distinction is also made between atmospheric pressure stills (which produce more highly charged distillates) and low pressure stills (from which more delicate shochu flows).
The shochu then matures in clay pots, stainless steel tanks, or wooden casks. Awamori aged at least 3 years (kusu) is a dynamic blend comparable to the solera of the Jerez bodegas. After blending and reduction, most shochus are between 25 and 30% alcohol. This strength is surprising for a spirits lover who is used to spirits that exceed 40%, but it is important to know that shochu is in most cases consumed with a meal.