With their legendary bars, their famous « cantineros » and their iconic cocktails, Cuba is indisputably among the countries that have shaped the history of mixology.
> Cuba, a land of rum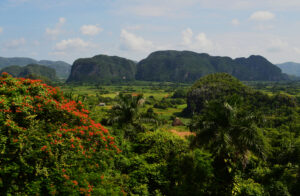 If Cuba is the biggest producer of sugar cane in the Caribbean, the country started producing rum much later than its neighbours. Despite this the cane eau-de-vie is indissociable of this mythical island. It must be said that introducing the very first column stills of the Caribbean, Cubans produced a new style of rums, rather light and sweet. A very successful style.
Naturally, the great classic Cuban cocktails such as the Mojito, Daiquiri or El Presidente are made from cane eau-de-vie. However, vermouth, apricot liqueurs and maraschino, cacao or mint crèmes, pineapple and grapefruit juices, or even grenadine are also key ingredients of Cuban drinks.
> Havana, the cocktail capital
If American cocktails of XIXth century are staples of the history of mixology, at the beginning of the XXth century there is switch to Cuban cocktails. This style flourished within the context of the Prohibition in the USA. From the very beginning of the 1920's, without a job, many American bartenders settled in the Cuban capital.
Havana quickly becomes a prized destination for thirsty tourists, the greatest American celebrities but also prominent mobsters. Until Fidel Castro came to power in 1959, Havana is a decadent city. Enough to attract an international clientele eager to party, stimulating the growth of the cocktail scene.
> Technical and creative bartenders
Renowned for their creativity, Cuban bartenders are also famous for their great technical skills. In 1924, they created the Cantineros Club in order to train young bartenders. The Club even published the Manual Official del Club de Cantineros de la Republica de Cuba in 1930. The Cuban « cantineros » also created the « Cuban roll ».
A somewhat spectacular technique which consists in pouring from one shaker's tumbler to the other in order to cool a cocktail without diluting it too much. If this technique was first created by the American Jerry Thomas, it was fine-tuned by the Catalan Miguel Boadas, bartender at the Floridita. He is among the bartenders who shaped Cuban mixology's history.
> Historic bars and iconic drinks
Among Havana's most lengendary bars and bartenders one cannot avoid mentioning the Floridita and Constantino Ribalaigua, another great Spanish bartender. If he is not the creator of the Daiquiri, the island's most iconic cocktail, he can boast of having made it famous and more importantly to have improved its recipe. Ribalaigua even created four different versions of the Daiquiri amongst which the famous Daiquiri #3, also known as Hemingway Daiquiri, as it was created for the writer of The Old Man and the Sea.
Hemingway, maybe Floridita's most famous regular, also contributed in making another staple Cuban cocktail famous: the Mojito. « My Daiquiri at the Floridita and my Mojito at the Bodeguita », as he stated. Carried by this legend, these two bars of the Havana need no introduction and are still to this day crowded by tourists even if new cocktail bars have opened these past few years.
> 3 staple Cuban cocktails
– Hemingway Special, a lendary drink
#tnagy#fresh#dry
Ingredients:
6 cl 3 YO Cuban rum
3 cl Fresh lime juice
1,5 cl Fresh grapefruit juice
1,5 cl Maraschino liqueur
Garnish:
1 Maraschino cherry
Method:
Pour all ingredients in a ¾ ice-full shaker and shake. Filter and serve in a coupe glass filled with crushed ice. Garnish with the Maraschino cherry.
> El Presidente, Cuban elegance
#sweet#fruity#floral
Ingredients:
4,5 cl 3 YO Cuban rum
4,5 cl white vermouth
0,5 cl Curaçao
½ bar spoon grenadine syrup
1 Orange peel
Garnish:
1 Maraschino cherry
Method:
Pour all ingredients in a ¾ ice-full mixing glass then stir with a bar spoon. Filter and serve in a coupe glass filled with crushed ice. Garnish with the Maraschino cherry.
> Douglas Fairbanks, Hollywood's King's cocktail
#tangy#smooth#balanced
Ingredients:
6 cl Gin
3 cl Apricot brandy
2,5 cl Fresh lime juice
Egg white
Method:
Pour all ingredients in a shaker, and shake. Add ice and shake again then filter and serve in a coupe glass.